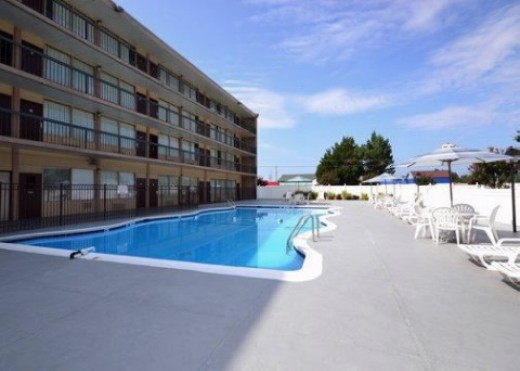 Property offering
Property website:
| | | |
| --- | --- | --- |
| Asking price | $2,000,000 | Given |
| | | |
| Number of rooms | 111 | Given |
| | | |
| Annual gross | $622,715.55 | Calculated |
| Occupancy | 29% | Given |
| ADR | $53 | Given |
| Room revenue multiplier | 3.21 | Calculated |
The facility:
Built in 1968 as a Holiday Inn, and in its day was pretty impressive. It's here because it should have a few days left.
Further mechanical and safety upgrades may be required, based on on-site visit and inspection, to bring the property into alignment with current standards.
The market:
Marine Corps Base Camp Lejeune is the dominant economic player in Jacksonville.
One of the things I don't like about military towns is that it isn't easy to find people willing to pay more than eighty bucks a night for a room (which is close to the government per diem rate that those guys, or anyone who they bring into town, or anyone working for a government contractor, can be reimbursed by the government for). But you're not going to get much more than that for an exterior corridor property anyway.
Even good, solid, Class A operations (the Hamptons, the Holiday Inn Expresses, the Courtyards), that rack a little higher rent a lot of their rooms at that government rate.
Still, this one should be coming close.
The physical location (area, surrounding neighborhood):
North Marine Boulevard. It's an older area of Jacksonville, but it's on a major north-south artery (U. S. 17 north). It is not the most upscale commercial strip in town, but it is not run down or depressed. If anything, it's resurging.
The tracks that used run on the other side of the highway from the property have been removed, and the area on the other side -- which was at one time somewhat industrial and warehouse -- is being redeveloped.
New River Shopping Center is close by in that direction. It is not what it was in its day and is presently in somewhat of a depressed and underutilized state, but its location is in a spot where there's no really good excuse for that, and a refresh could occur. Relocation of the Camp Lejeune main gate to an access point off Highway 24 near that location could provide the impetus.
There are plenty of restaurants nearby, some within walking distance. Checkers and Waffle House are less than a block away: so is McDonalds if you want to venture across Marine Boulevard.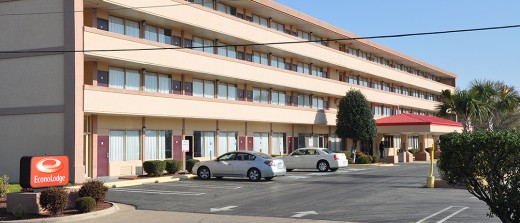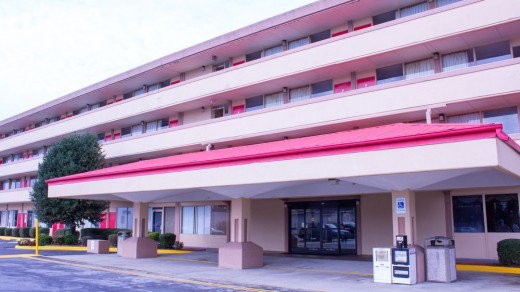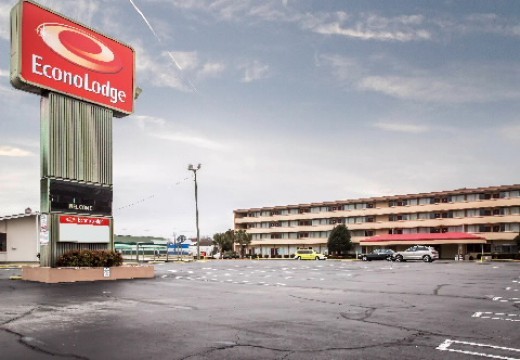 Facility changes recommended:
The entire exterior needs a coat of paint. We strongly recommend replacing those opaque railings on the upper walkways with extruded aluminum railings such as you see on the much more attractive rear of the building over the pool.
The parking lot is in need of treatment.
Because it is an exterior-corridor property in an urban setting, it needs to be fenced. (The area is not bad, but this is true for any exterior-corridor property in an urban setting.) Budget about $30,000 give or take for it, don't use cheap chain link fencing: you don't want it looking like a prison or military camp. Fencing along a street needs to be extruded metal on a brick base. Fencing along a rear property line can be vinyl-coated chain link. A speed bump just inside gate opening slows traffic down enough so that everyone coming in or going out gets picked up on the security cam. (Every property, no matter where it is, whether interior or exterior corridors, should have security cameras covering all common areas and hallways. A good system can generally be set up for around $3000.)
Market information links:
Operational changes recommended:
Both facility design and management, as Beechmont would approach it in this location, will reflect the need to reposition this property as a Class A mid-market property.
TripAdvisor reviews for this property indicate that both housekeeping and maintenance need to be tightened up, both in terms of investment and commitment on the part of ownership, and in terms of operating practices.
TripAdvisor reviews also indicate that security is not the greatest at this location. In addition to fencing, access control, and security cam monitoring of the entire property; we would impose some practices aimed at the property somewhat inhospitable to undesirables.
Marketing recommendations:
This should not be an economy property.
This property has potential as a community fixture that is not shared by other area hotels. In addition to its central location in an area that isn't bad or run-down, it already has more meeting space than any other hotel in the Jacksonville area, and the former restaurant and lounge space can be converted to make more.
This should result in a solid market position: no other hotel, even the more upscale ones, in the Jacksonville area offers this much meeting space; and that would change only if a big-box Marriott or Hilton hotel were to be developed here, hardly likely given the room rates in the area that seem to prevail year after year.
Jacksonville -- as well as most other military towns -- does have a strong extended-stay market because of military relocations, and your rate structure should acknowledge this. We would recommend an automatic discount (for loyalty card members) of 12% for a stay of three or more days (four or more days if the stay begins on a Sunday, Monday or Tuesday), and 20% for a stay of seven days or more; if committed and prepaid.
Accept with gratitude any benefit you get from the Marines, but other market segments should be developed and cultivated -- everyone in Jacksonville thinks they're going to get rich off the base, but if you're running a hotel, you have thirty other hotels competing for it.
Large, institutional demand generators such as Camp Lejeune can be somewhat monolithic and our approach is to identify secondary users -- in the case of a military installation such as Camp Lejeune, government contractors such as Caci, Inc., ManTech International, Honeywell, SAIC and Northrop Grumann, each of which we have noted has a presence at Camp Lejeune.
Companies operating in the Jacksonville area include L-3 Communications, American Services Technology, Convergys, Leidos Biomed, NexxLinx, and Stanadyne LLC. Large commercial construction and mechanical contractors that have operations here include S. T. Wooten and SPC Mechanical.
This property would reopen following renovations at a rate of $72.00-78.00 per night.
Franchise options:
IF WE EXECUTE A HOTEL MANAGEMENT AGREEMENT WITH AN EVENTUAL BUYER, THAT AGREEMENT WILL PROVIDE THAT WE HAVE ACCESS TO ALL BUSINESS RECORDS OF THE PROPERTY PRIOR TO CLOSING. IF THESE INDICATE THAT THE FRANCHISE NOW IN PLACE IS WORKING AND IS BENEFITING THE PROPERTY, WE WILL GENERALLY ADVISE KEEPING IT, SUBJECT TO FIVE-YEAR TERMINATION OPTIONS.
IN THE CASE OF THIS PROPERTY, HOWEVER, WE DO NOT ADVISE KEEPING EITHER THE ECONO LODGE FRANCHISE OR THE CHOICE HOTELS AFFILIATION.
We recommend conversion of this property to a Red Lion Inn and Suites. (We made the same recommendation for a nearby
Sneads Ferry - North Topsail Beach hotel
, so if you see a Red Lion out near Sneads Ferry when you make your offer, let's revisit it.)
Red Lion is a historically western U. S. brand that is expanding aggressively into the eastern United States. They offer some flexibility in the conversion of older properties that may have a few more decades of life left them, and are one of the few Class A brands open to exterior corridor properties.
This property will require serious upgrades to function as a Red Lion. But it needs to be repositioned and renovated in its entirety, anyway. Red Lion's class B GuestHouse Inn and Suites brand is an option, but you probably would not save nearly as much money on renovations, because of the extensive renovations needed; and at any rate the Red Lion brand can better support and make use of this property's potential as a conference center property.
(As you can see in the photos of other Red Lion properties, the dated design and appearance of this one makes you wonder if we could make it fit right in . . .)
Red Lion photos:
Why Red Lion?
Properties in the $5 million-and-under category, especially Class B properties, that have Quality Inn and Days Inn and Baymont Inn franchises that are not really helping them, are generally without good franchise options. (This Jacksonville property was not intended to be an economy property, and the fact that it is one now is a testament to its age and deterioration, not its design.)
It just happens that Red Lion has the flexibility needed to redeem properties like that, and do better by them moving forward. So, as Red Lion expands into the eastern United States, we end up recommending them quite frequently. Red Lion's flexibility in this area offers a tremendous opportunity for many properties up and down the East Coast that can be acquired for comparatively little, and following a renovation, have another twenty years or more worth of life left in them.
We have no formal affiliation with Red Lion Hotels Corporation, and stand to receive no compensation or other consideration from the sale of their franchises.
Disclosures:
I lived in Jacksonville from 1980-1983 (I never served in the Marine Corps or any other branch of the military), and last visited the area in October, 2014.
Our recommendation:
Buy, with a commitment to renovate.
Historically, there was a restaurant and lounge on the ground floor, and the space may still be there, but I wouldn't bother with it. I'd knock it out and focus on events instead.
(When I lived there in 1980-83, that lounge was a hot nightspot in Jacksonville. In a city full of young Marines where strip joints and biker bars are common, it was pretty tame by contrast to much of the other nightlife in town; but in any other town, that lounge would have been considered a pretty rowdy establishment that has no place in a good hotel. In any event, any prospects of being able to duplicate its former success without letting it get too noisy and unruly are speculative.)
Food and beverage should be limited to the required continental breakfast, and a catering kitchen capable of supporting the events.
Evaluation:
| | | |
| --- | --- | --- |
| Value of property based on data given: | High | $1,850,000 |
| (Our estimate) | Low | $1,400,000 |
| | | |
| Renovation required | Extensive | |
| Recommended budget | $750,000+ | |
There is no way, based on condition and financial performance of this property, that it is worth 3xGRR, but we awarded a bit of a premium for the location and the meeting space (which will be worthless to you unless you're going to fix it up and do something with it).
I'd offer them $1,400,000 and see what they do.
Who should buy this hotel?
Someone with a renovation budget and the ability to wait a year or two for positive cash flow. Negative cash flow should not be that much of a problem in the interim once the property reopens, but business is going to have to be built up slowly.
The property will probably have to be closed for a period of one to two months to compete the renovations. The renovation budget should be planned for and set aside as part of the acquisition costs.
Who should not buy this hotel?
Everybody thinks they're going to buy a hotel in Jacksonville and get rich off the Camp Lejeune Marine base located next to it; and if that's all you want to do, you'll be competing with thirty other area hotels, many of them newer, and all of them thinking that they're going to do that successfully.
It's worked so well for this property that they're at 29% occupancy with $53.00 ADR. If you continue running it as an economy property, you're probably not going to exceed that performance, and you're going to have a 49-year-old maintenance monster to feed.
Beechmont links
About us
Beechmont Hotels Corporation is a hotel management company based in Winston-Salem, N. C. We frequently have occasion to perform asset identification services for potential clients who are seeking to acquire hotels, and inform them as to how a particular hotel listed for sale can best serve their investment needs -- or not.
After a time, we will republish the information here as a short feasibility study (unless an agreement with the potential client for whom we originally examined the property prohibits it).
Our evaluation is based on our own subjective opinion, using data collected from freely available sources online, unless otherwise noted in the Disclosures above. Our advice as shown here is as we would advise a client. You are free to accept or reject it, and should check behind us and make your own evaluation.
Ultimately, you are responsible for your own decisions, including whether to rely upon our opinion or to confirm our assessment for yourself, and we assume nor accept any liability.
When we choose -- ourselves -- a hotel offering to evaluate here, we choose only hotels that we have something nice to say about, a positive recommendation to make; hotels that we wouldn't mind signing to manage ourselves for twenty years.
When someone submits one to us, we're totally candid and spare no one's interests or feelings. If it's a bum deal, we'll simply tell you, don't touch it with a ten foot pole, and we don't care who gets mad.
If you are contemplating purchase of a hotel and would like for us to complete an evaluation similar to this for you for the hotel that you are considering, send a PayPal for $100 at makeitrain18018@gmail.com .
(It has to be a hotel that is currently listed for sale, that you can look up on Loopnet or a broker website. I will pass the information to you privately, and wait a few weeks before I republish it here, unless we make other arrangements in advance -- at a slight extra charge -- to keep it just between us.)
Click here for a listing
of other hotels for sale and available that we've reviewed.